Military Domestic Violence Attorneys in Colorado Springs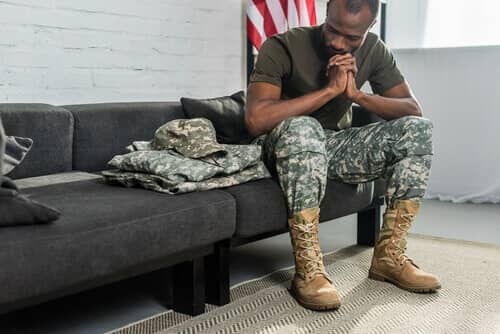 In the face of domestic violence charges, members of the United States military can face some unique challenges that may not arise in civilian cases. In fact, military members who are accused of domestic violence may have to contend with:
The loss of their rights to own and/or carry firearms
The potential end of their career.
At Anaya & Chadderdon, P.C. in Colorado Springs, we understand the consequences that military members can face when they are arrested for or charged with domestic violence. We also know how crucial it can be to have an experienced domestic violence lawyer on your side, working relentlessly to defend and protect your rights. That is why we are committed to vigorously defending military members in misdemeanor and felony domestic violence cases.
Our Colorado Springs military domestic violence attorneys have more than 30 years of criminal trial experience, including experience as former prosecutors. This gives us the insights and skills to effectively anticipate the prosecutor's arguments and strategically craft and present your defense. It also empowers us to successfully guide our clients through the criminal justice system while helping them achieve the best resolutions possible.
We represent members of all military branches in criminal cases and court martial cases. We deeply appreciate your service to protect us and our rights. Now it's time to let us help you protect and defend your rights and future.
We are available 24/7 to answer your questions, put you at ease and defend you. We can discuss your case over the phone or at an in-person meeting at jail or our Colorado Springs office.
What Are the Civilian Penalties for Domestic Violence?
In the event of conviction on a domestic violence charge, the exact sentence handed down by the criminal court will depend on factors like (but not necessarily limited to):
The nature of the act(s) of domestic violence
Whether the charges are filed as misdemeanors or felonies
Whether the accused has prior domestic violence convictions and/or a criminal record.
Typically, penalties for domestic violence can include (and may not be limited to):
Jail or prison time
Fines
Domestic violence treatment programs.
How Involved Is the Military in Investigating Domestic Violence Cases?
The military's Family Advocacy Program (FAP) investigates all allegations of domestic violence involving its members. The FAP may be more or less involved in domestic violence cases, depending on whether:
The accused is an active member who was on duty when the alleged incident occurred.
The alleged incident took place on base or at a military installation.
Please note that, while FAP does not investigate incidents that involve non-military members committing alleged acts of domestic violence against military members, it can:
Refer these cases to local civilian law enforcement authorities
Bar the accused from entering base and other military installations.
What Are the Military Penalties for Domestic Violence in Colorado?
The military can impose various punitive and administrative penalties on members who are found guilty of domestic violence. These will vary according to the circumstances of the case. However, they can include (and may not be limited to):
Loss of security clearance
Demotion
Counseling
Dishonorable discharge.
Please be aware that, in addition to the civilian and military penalties for domestic violence, members of the military may also have to deal with other negative impacts, like (but not limited to):
Permanent damage to personal relationships
The inability to obtain certain professional licenses or certifications, like those required to practice law or serve as a law enforcement officer.
Put Our Experienced Criminal Lawyers in Your Corner
If you or a loved one is a member of the United States military who has been accused of, arrested for or charged with domestic violence, call (719) 227-0007 or email us to speak to a trusted Colorado Springs domestic violence military attorney at Anaya & Chadderdon, P.C.
Initial consultations are free and confidential, and our attorneys are available 24/7 to:
Discuss your unique situation
Assuage your concerns
Advise you of your rights, options and how to proceed
Vigorously defend you.
Put your freedom, reputation, career and future in the experienced hands of our Colorado Springs military domestic violence lawyers. We will fight for you and work tirelessly to defend you, minimize the negative impacts and achieve the best outcome possible.
Colorado Springs Military Domestic Violence Defense Lawyers
Regardless of the level of domestic violence charge you face, we understand that your case is likely the most important thing in your life, and our Colorado Springs defense attorneys will handle it with the highest level of expertise, care, professionalism and diligence.
Our extensive experience and record of success in Colorado Springs domestic violence cases have earned us numerous professional honors, 5-star reviews on Facebook and Google, and the respect of colleagues, local judges and prosecutors. Reach out today for your free case evaluation.